Decentralized Peer-to-peer Network While Having Fun
We believe our mined Haroldcoins are no less real than the infinite printing being done by most of the world's governments at the time. At least computer resources and electricity for the mining creates a base value for something. Unlike Dollars, Euros, Pounds, other currencies, and many types of cryptocurrency, HRLD actually requires proof-of-work and unlike their inflationary system we believe in a deflationary system. Why not do this and have fun at the same time? Money printer may go BRRR, but HRLD sure doesn't. Also, since we love Harold so much, we believe Harold should be immortalized on the internet, for being one of the most famous memes. If some king who once existed can have his face printed on gold coins, for sure Harold who is more worthy deserves to have a modern form to commerorate his greatness.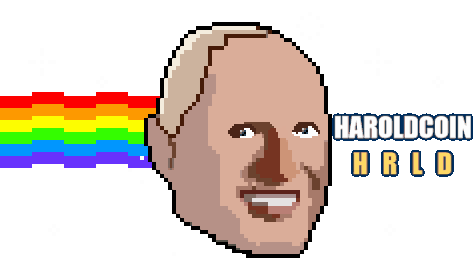 PHI1612-based Mining Algorithm
PHI1612 has been developed as a combination of dual X17 algos with unique combinations and 128 bit headers. This system is energy efficient and most importantly it is ASIC-resistant and stable. The following miners work for HRLD: CCMiners, SGMiners. For securing the beginning network, you are invited to join us in mining Haroldcoin. You can mine with a GPU (graphics card), even if your computer is a potato, so why not join us? Enter the party now that this thing is still fresh and reward is high while difficulty is low. Can you say:
MAGIC INTERNET CRYPTOCURRENCY?
Because we sure can!